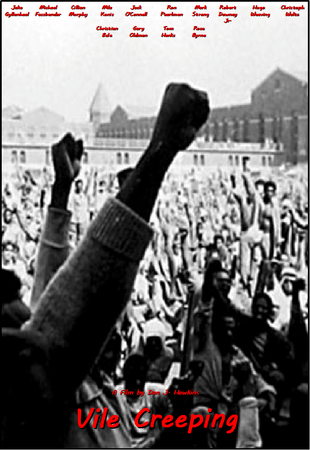 Vile Creeping is a book written by Dan J. Hawkins.  It is the thirteenth book in the Hawcross series and is set in a fictional reality. The book focuses on TANK and the S.C.C. (Second Chance Criminals) Unit as they are being pulled apart at the seams by the Terrorist Organization Vile.  This book marks the first in the Vile Trilogy which Chronicles the Mutant Uprising.
When Bobby Tango's Wife is gunned down, the rest of the S.C.C. and the whole of ZOOM vow to find who is responsible.  Unknown to Hawcross' Police Force, the Vile Terrorist Group are planning a World Wide Takeover, starting first by pulling ZOOM apart at the seams.  With the news that more and more assassinations on citizens, politicians and ZOOM Agents are occuring every day, no one feels safe and public trust in ZOOM is beginning to fade.  In the midst of the chaos, Rex Lincoln returns from his exile to help his former team mates, unaware that it is too late to stop the enemy who have already begun to pit them against each other.
Write the first section of your page here.
Characters and Look-Alikes
Edit
Ad blocker interference detected!
Wikia is a free-to-use site that makes money from advertising. We have a modified experience for viewers using ad blockers

Wikia is not accessible if you've made further modifications. Remove the custom ad blocker rule(s) and the page will load as expected.